Mr. Probz reaches new milestone with 1 billion streams on Spotify!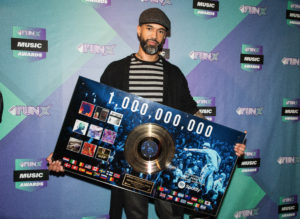 Mr. Probz has one billion streams on Spotify! Mr. Probz was present at a Dutch ceremony (FunX Awards) where he was invited to hand out awards to Dutch artists, not knowing that he would be the one to receive a real special award as well.
Quote: "When I first released 'Waves' it was more or less an experiment, to this day people are still enjoying and even discovering the song, that's really special and important to me".
In 2019 Mr. Probz is focusing on music and his label Left Lane Recordings, which was launched earlier this year. "I'm really enthusiastic about the future, we're grinding and we've got a lot of amazing artists coming up. I'm in the studio a lot working on a lot of new projects! "