Record company Sony Music secretly withholds royalties at the expense of the artist
– Mr. Probz sues Sony Music for fraud and deception
– It concerns a multi-million-euro claim
– Lawsuit is relevant for every musician with a contractual 'at source' clause
Amsterdam, September 27, 2022 – The Dutch artist and producer Dennis Stehr, better known as Mr. Probz, singer and songwriter of the worldwide number 1 hit Waves and Nothing Really Matters, and his company Left Lane B.V. have again summoned record company Sony Music Entertainment (SME) in proceedings at the Amsterdam District Court.
Two audit reports by the internationally renowned accounting firm Grant Thornton distressingly unveil how SME and its subsidiary Ultra Records have withheld royalties for years. SME deliberately failed to account Mr. Probz following the contractual 'at source' provision and refuses to give Mr. Probz access to its bookkeeping, which is necessary to carry out an audit. Stehr and his company Left Lane B.V. have nullified all agreements with SME and Ultra Records. They are demanding full payment of royalties after the deduction of a reasonable distribution fee to SME. This amounts to a multi-million-euro claim.
Previously won lawsuit
In September 2020, Stehr and Left Lane B.V. successfully filed a lawsuit against SME and Ultra. Among other things, SME had not disbursed royalties correctly, transparently and timely. With this judgement, Stehr and his company retrieved all exploitation rights to Left Lane B.V.
The court ruling also determined that SME had to provide various accounting documents. Also, the already initiated audit, by Grant Thornton, at both SME and Ultra Records, had to be completed. The audit verified whether SME and Ultra Records have complied with the 'at source' provision in the license agreements with Stehr and Left Lane B.V. in the past. As a result of these audit reports, new facts and circumstances have emerged, which means that Stehr and Left Lane B.V. nullified the license agreements.
Background: how are royalties calculated?

Stehr and Left Lane B.V. signed a license agreement with SME and Ultra in 2013. This agreement contains an 'at source' provision. An 'at source' agreement secures that a royalty percentage is paid for an exploitation where revenue is received, which is considered the 'source'.
Grant Thornton's audit reports conclusively show that SME and Ultra Records are unable to demonstrate that all royalties have been accounted and disbursed at source to Stehr/Left Lane, as contractually agreed. The audit reports also display that SME and Ultra, from the start, never intended to comply with this 'at source' provision and apparently knew that such an agreement would not be honoured, given the contractual system SME has developed. By doing so, SME and Ultra Records have deceived and misled Stehr and Left Lane B.V. If Stehr had known that SME withheld royalties in this way, he would never have entered into a contract with them.
Secretly skimming royalties

The most striking finding concerns that SME and Ultra mutually agreed on, unbeknownst to Stehr and Left Lane B.V., charging distribution fees for exploiting Probz's music rights (so-called intercompany discounts). These fees are deducted before calculating the artist's royalty. However, an 'at source' provision in a record contract does not allow two mutually related parties to deduct an agreed distribution fee, since the settlement basis is at the source.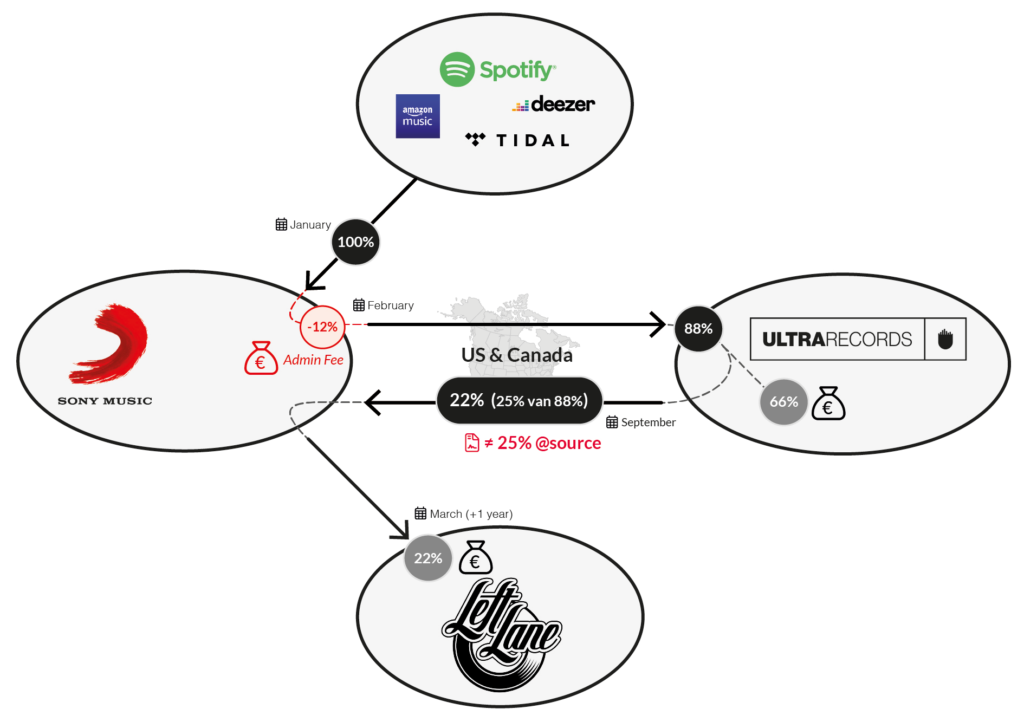 The 'global' record label Sony Music Entertainment
The audit reports and SME's response to the findings have also shown that artists, including Stehr, have been falsely informed when entering into record agreements with Sony. An image is sketched of a worldwide operating record label with divisions and offices in almost every country in the world.
The reality is different. An artist depends on the 'system' within a large record company such as SME. Local offices are able to withhold royalties for various forms of exploitation at their own discretion and not to pay the artist. The local SME office, where artists sign, does not appear to have any influence and control over the financial administration and operation of its foreign affiliates and SME's international headquarters. As a result, they cannot provide the necessary information on withheld royalties that have been contractually agreed upon. They also make no effort at all to collect or request funds and data from other local sister offices. SME apparently believes that it cannot be expected to make any effort in this regard.
"With surprise and disbelief, we have read the findings of the Grant Thornton reports. SME apparently makes mutual intercompany agreements within a group, unbeknownst to artists, resulting in musicians missing out on significant income. They cannot rely on being correctly disbursed by SME," says royalty specialist Pim Keulen.
"It is important that this case is won, not only for myself but also for other artists who have signed into 'at source' agreements with one of the largest music entities in the world. This case can prove that artists have possibly not received the compensation to which they have been entitled to for years. For an individual artist, filing a lawsuit of this size against a major is often impossible. When there is a conflict, they often feel intimidated by these influential record labels. They usually don't have the resources to compete against these giants in the music industry, on whom they are also financially dependent most of the time. From the start, I have not received the compensation I was entitled to and I suspect I am not alone. What we have discovered after years of litigation and the recent audits is so crooked that I have no choice but to take these steps," says Dennis Stehr.
Press contacts:
Clemens Sassen
E: clemens@hscomms.nl
M: 06 – 46 11 11 89
T: 020 – 68 55 955
Representing lawyer: mr. M. Steenhuis (lawyer, Steenhuis Advocaten) in collaboration with P.M.C.H. Keulen MSc (business affairs & royalty specialist, Right4Music)